Charitable giving.
We are determined fundraisers!

We enjoy contributing to good causes including Community Projects and donations for individual fundraising events. We are also keen fundraisers ourselves, raising money for charities and good causes close to our own hearts.

Our fundraising in 2016

Last year, we got involved in fundraising events for two charities. The first was a 5k park run through the mud at Milton Country Park, followed by an intense 'Wing Walk', both to raise money for the Stroke Association. Later in the year we took part in the Shine Night Marathon, power walking around the 26.3 miles for Cancer Research whilst taking in the spectacular London sights through the night. We completed the full course in a respectable 8 hours, setting off at 22.30 on Saturday and finishing at 06:30 on Sunday morning. We are delighted and proud to have raised over £4,000 for charity.

Exciting fundraising for 2017

This year we plan to introduce a very exciting new fundraising project, our aim is to raise money for a national charity and one local good cause. We've set a fundraising target of £5,000, challenging ourselves to beat last year's total. We'll update this page with more details of our plans and let you know how we're progressing.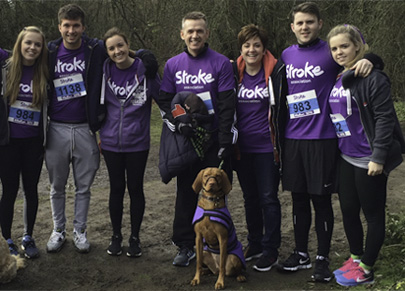 5k Park Run
Stroke Association
A cold and wet Milton Country Park hosted a 5k run to raise money for the Stroke Association. Our intrepid team, including Willow the Vizsla completed the particularly muddy course and still managed a smile, or is it a grimace!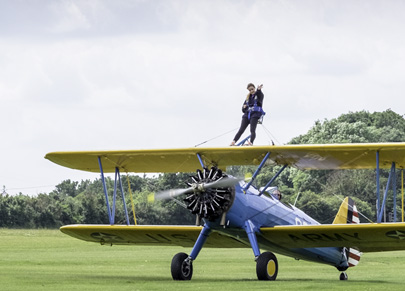 Wing Walk
Stroke Association
Our craziest daughter Chelsey Hickman decided that she would go for an adrenaline fuelled challenge for charity! She was remarkably composed throughout the entire 15 minute flight, which is more than can be said for the spectators.
Wing Walk
Stroke Association
This picture was taken shortly after landing, Chelsey is complaining that her arms hurt! This was because the pilot told her to hold her arms out during the flight and that the signal that she wanted to stop was to put them down, of course Chelsey kept them out for the duration of the flight and most of the following week at work.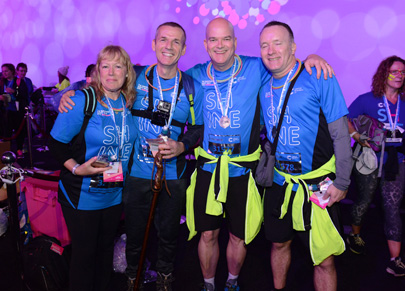 Shine Night Marathon
Cancer Research
What an incredible experience this was, 26.3 miles and 8 hours spent with some truly amazing people. left to right is Karen Davis who flew from New Zealand just to walk this with me, next is Gary Hickman (that's me!) then Lee Arnold and Paul Dorey to complete the line up.